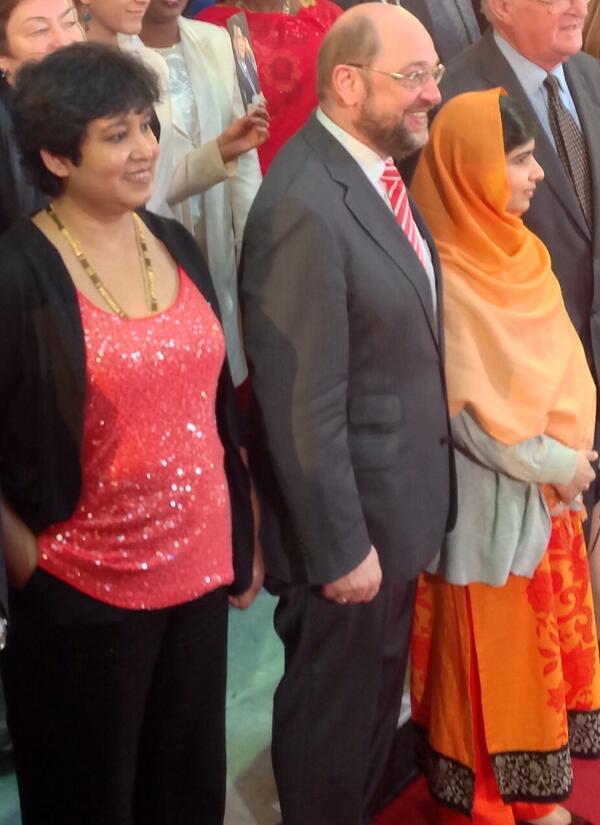 Yesterday's pic. Prez of the European Parliament is btwn Malala & me. Huge differences & similarity btwn us. 
pic.twitter.com/IBLeY3K94E

14 RETWEETS
23 FAVORITES




@taslimanasreen You gave another reason to 786% Halali Pakistanis to hate Brave Malala. pic.twitter.com/4XRI3MoF8N BTW, you both looking good.
@taslimanasreen You're hot 😉
@taslimanasreen yup..! Difference – Saffron veil on head ! Similarity – Fatwa on head..!!
@taslimanasreen ملاله جنگجو قبائلی کلچرل میں سافٹ فائٹر اورنسریں گنگا جمنا ڈیلٹا کی باغی
@taslimanasreen Yes, a huge similarity among you, Malala's father and Rushdi. You guys know how to get West attention.
@taslimanasreen The differeces r thay u wore western dress, she wore pure Pakistani dresss.That made her attractive.
@taslimanasreen Salute to both of you!It would have been fantastic if any one from India was there to complete the trio!Is there any Indian?
@taslimanasreen u shouod try a hand at bollywood….u can be a good competitor to many actresses…honestly speaking.
@taslimanasreen yes, a huge diff! U did all by urself but Malala is being driven by 'someone'! Haha 
@taslimanasreen Is this "Mangalsutra" in ur neck
@taslimanasreen nicely
@taslimanasreen Ahhhhhhhh that's gorgeous. Two of my heroes almost right next to each other! (With pesky prez in the way.)
@taslimanasreen Great shot of both Malala and yourself. Thanks for sharing with the public
More Tweets 19th / 20th November 2013